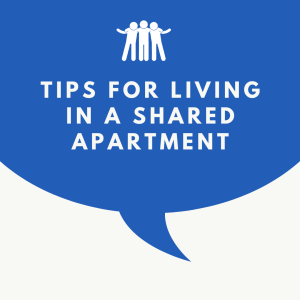 A shared apartment is a great option, especially for students starting their studies or moving to a new city. Shared apartments are the most affordable and quickest housing option available. In a shared apartment, you get to know other students who are in a similar life situation. You can also request to live with a specific friend in the same shared apartment. If you want to move into a shared apartment with a particular friend, both of you should fill out separate housing applications and mention it in the additional information section of the application. All residents moving into a shared apartment must be full-time students. Each resident will have their own lease for their individual room.
Rooms in shared apartments are part of a shared living space. In a shared apartment, each resident has their own lockable room. Room sizes vary from approximately ten square meters to twenty square meters. The kitchen and bathroom are shared with other residents. There are both two-room and three-room shared apartments available.
In shared apartments, the responsibility for common areas (kitchen, bathroom, balcony, etc.) is shared among all tenants.
Shared living goes smoothly when agreements are made and discussed regarding living arrangements and daily routines. It's particularly important to discuss the cleaning of common areas with your housemates to ensure a hassle-free coexistence. It's a good idea to establish common rules at the beginning of your shared living experience.
Get to know the roommate:
Introduce yourself to each other when you meet for the first time. Remember good manners and always greet each other in common areas.
Exchange phone numbers with each other and set up, for example Whatsapp group where you can discuss matters related to the apartment together.
At least you should go through these things with your roommate:
List the cleaning shifts of common spaces. You can even use a shared calendar.
Agree on whether and when guests can be brought into the apartment.
Go through which items in the apartment are shared.
Agree on whether some of the consumables are in common use (e.g. toilet paper, kitchen towels and dish/cleaning products) and who buys them when.
Respect roommate schedules and observe quiet times.
It's good to talk about things directly, even the ones that annoy you.